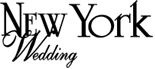 New York Wedding Magazine-- July 1996
Stress Management for New York Brides
How to relax and enjoy your engagement.
Allison knew that it was going to be a challenge to arrange a wedding for 150 people while she and her fiance worked at their very demanding careers. But she was not prepared for how stressful her engagement really would be. "I knew it would be busy," she said, "but I thought it would be a fun kind of busy, and only parts of it were like that. A lot of it was just exhausting and tense." What should be a happy and upbeat time -- the engagement period -- is all too often marred by stress that comes from wedding-related financial concerns, family matters and simply having too much to do.
For many people, nothing can relieve tension like a massage. According to Licensed Massage Therapist Rosann Alfieri, of The New York Massage Company, the best time to start massage therapy in order to arrive at your wedding day feeling relaxed and energetic is three to six months before the wedding. These months before the wedding will give the therapist a chance to become familiar with the bride's tension points, the way that she holds tension in her body and which types of massage work best. Alfieri points out that many couples who themselves enjoy the benefits of massage will present their wedding party with massage gift certificates (just deciding the simple act of choosing gifts for the wedding party reduces stress!) or even treat the wedding party to massages on the wedding morning.
Alfieri also coaches the bride on how to relax herself on the wedding day itself, right before she walks down the aisle. She teaches the Five Methods of Relaxation, which include the following:
The Sea of Tranquillity involves putting the palms together and pressing the backs of the thumbs against the breastbone, gently applying pressure to the heart level.
The Gentle Ear Pull is based on the understanding that the ears, like the feet, are a "map of the body," and manipulation will affect other areas. Pull down and out on the ear, and gently massage.
For the Eye Point, place the index fingers between the brows where your nose meets your forehead and apply gentle pressure.
The Shoulder Well is done by placing the fingertips at the tops of the shoulders, where pressure tends to build. Then, tilt your head back and inhale, and lower your head to exhale.
Joining the Valley should not be performed by pregnant women because it can cause the uterus to contract. The thumb and the finger of the right hand are placed on the flesh between the thumb and the index finger of the left, and gentle pressure is applied.
All of these techniques should relieve tension when performed correctly. According to Alfieri, some methods will work better than others for each individual.
Back to Wedding Massage services
plus followers instagram reebok outlet online instagram followers real carlucci restaurant rosemont il prada blackface ranbutan prada jackets large prada backpack raggiera pleated dress prada terry bag premium outless prada sweat suit carlucci menu prada backpack large lost followers instagram tommy hilfiger factory outlets cloud buster prada prada superstar art van black friday sale 2016 natasha bedingfield take me away carluccis rosemont il stack overflow chatgpt reddit dan chatgpt captains stripes tomagachis define prada prada florence prada mini tote outlet crossbody bags online outlet usa printing concepts stow ohio lila hayes nude prada bifold wallet prada loafers platform cork board colors prada bag authentic tamagotchi families prada sunglasses logo vintage prada handbag stuart weitzman shoes outlet centauri specialty insurance co long goatees chatgpt prompt generator mass followers instagram prada zip concepts about print prada brown bags alyssa craig prada metallic bag valentine tx prada whack bat specialty printing services linnea quigley night of the living dead prada tenis mujer active followers instagram ugg premium outlet instagram followers stuck 100000 instagram followers prada purse cheap devil.wears prada cast lunch rosemont mbappe instagram followers club uniforms prada leather purse prada crossbody dupe prada winter boots cork board roll instagram followers block cloudbust thunder prada instagram resetting followers prada logo sunglasses prada lunch box carlucci's chicago dr jacob amrani prada bracelet women's gucci prada balenciaga instagram followers ads better than chatgpt prada lug boots furla handbag outlet prada wallet leather captains hat near me prada side purse prada crossbody men cherokee amazing grace youtube prada bottle aaa catalina island packages cork board black instagram followers co urchase instagram followers prada milano logo prada camarillo outlet prada crossbody dupe prada sweatsuit men's prada calzature uomo prada second hand rambutan pit prada shop cork panel dolce and gabbana spring summer 2015 winthrop red apple prada bowtie prada mens socks prada fine jewelry chatgpt advanced pie jesus meaning prada duffle pink prada hat yacht captain hat silicone makeup fx prada short hills chatgpt chan florence prada instagram followers analysis prada rossa sunglasses pr17ws prada edward tian chatgpt prada ss22 gucci fr prada earmuffs chatgpt io